Stockfish Online – Free Chess Analysis by DeocdeChess
Did you know that as a registered member at DecodeChess you get lifetime access to our friendly, Stockfish online analysis features? Read on to learn about the great perks that are included in a free DecodeChess account.

Look for the Fish icon! Stockfish online analysis feature at DecodeChess
Stockfish Online at DecodeChess: No Downloads Involved
When you sign up for a free account at DecodeChess, you get lifetime access to two basic, yet important chess analysis features:
You can run a Stockfish engine analysis on any position you have in mind, whether it's a game you uploaded, or a custom board setup, or a position in the midst of a game against our human-like computer opponent. The engine will run up to 10 moves ahead at a reasonable depth (~20). Simply look for the fish icon below the chess board: (see image above)
 If you upload an entire game (PGN file) to DeocdeChess, within a few seconds you'll get an entire game map that will show you an advantage graph for White vs Black, information about the opening variations, and information per move (mistake, inaccuracy, good move, blunder):

These two features are 100% free for as long as your DecodeChess account is active. This way you don't have to start thinking how to download Stockfish chess engine to your computer, but instead, you have online access to it, any place, anytime. 
Stockfish Online Explained by DecodeChess
Did you know that DecodeChess is the only chess analysis software that explains the moves of Stockfish in rich, intuitive language? Apart from the lifetime free features mentioned above, the core of DecodecChess is the ability to explain the recommended moves of the Stockfish chess engine.
By  explaining  we mean:
Providing the reasoning behind the next best move, including its weaknesses and strengths.
Presenting a thinking process that helps in understanding how to arrive at the next best move by yourself, using concepts like an idea, problem, and solution.
360° verbal analysis of any position that overviews threats, good moves, concepts and piece functionality.
DecodeChess at a glimpse: hover over the spots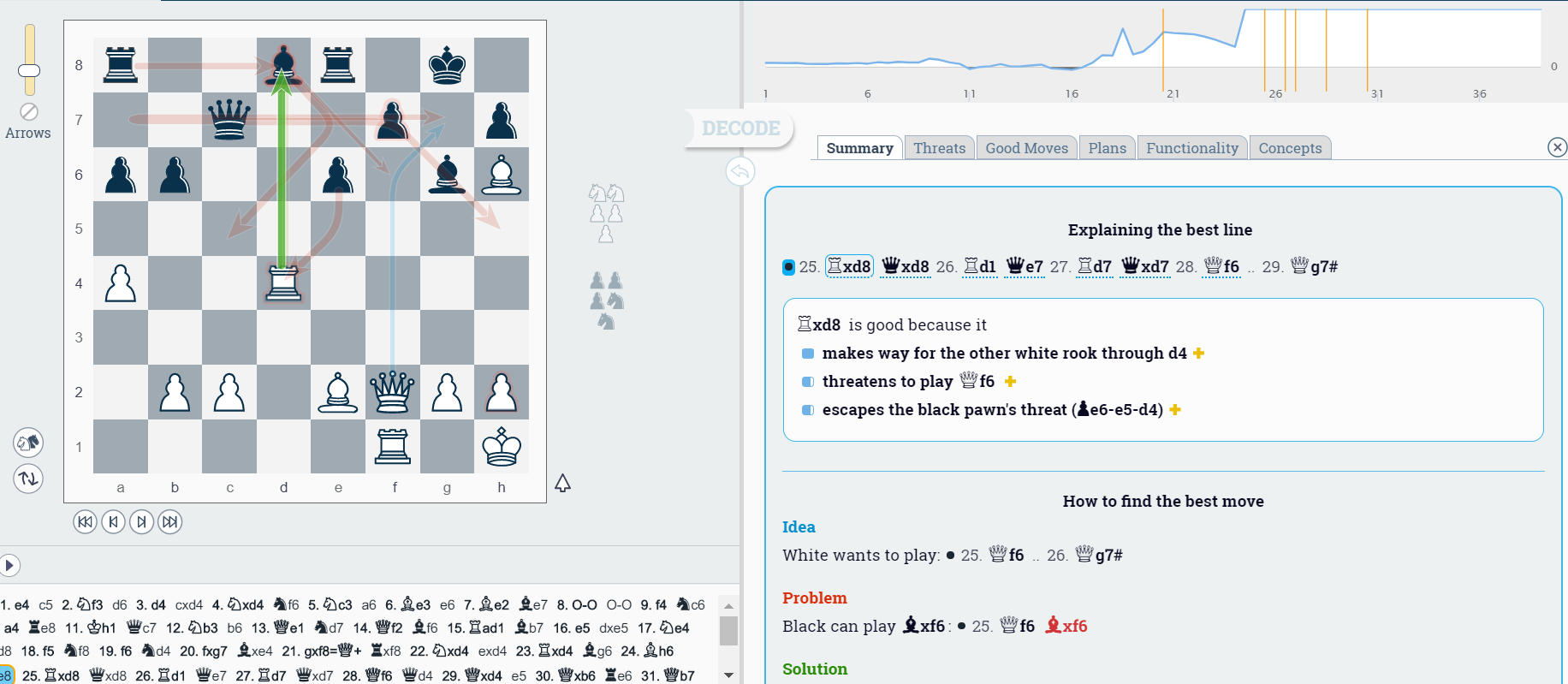 1
Explaining the suggested moves of a chess engine in rich, intuitive language.
2
Rich tab system that analyzes the position from different perspectives
3
Providing a framework to improve in chess, using our Idea-Problem-Solution method.
4
An interactive board – the arrows correspond with explanations, to learn more about the position.
5
A game map that provides an overview of the entire game, including recommendations on which moves to decode.