Train Like the Professionals
Train to win by improving your analytical and decision-making skills.

Get Insights
Find out what lies behind every chess position ever played.
Systemise your thinking
Strengths, Weaknesses, Opportunities & Threats. Report for every position.
Get In-depth Analysis 
✓ Automatically annotate your OWN games
✓ Discover the mindset behind positions
✓ Understand the function of key pieces
Get Insights
✓ Discover opponent threats and how to neutralize them
✓ Explore strategies for any position
✓ Find out the chess concepts that are relevant to each position
Get Strategy
✓ Discover and understand how a move contributes to your strategy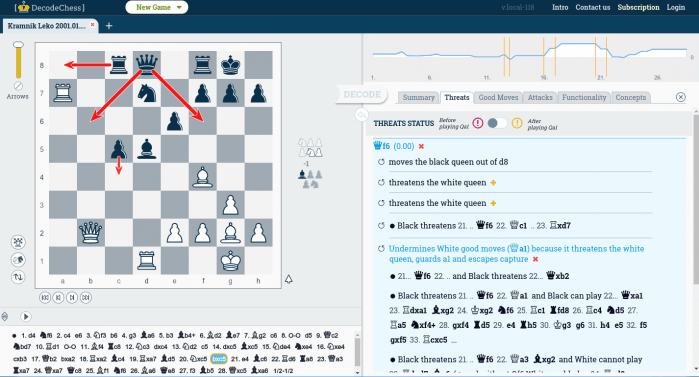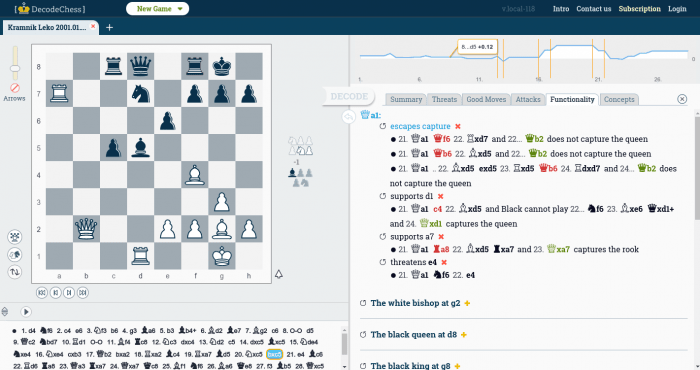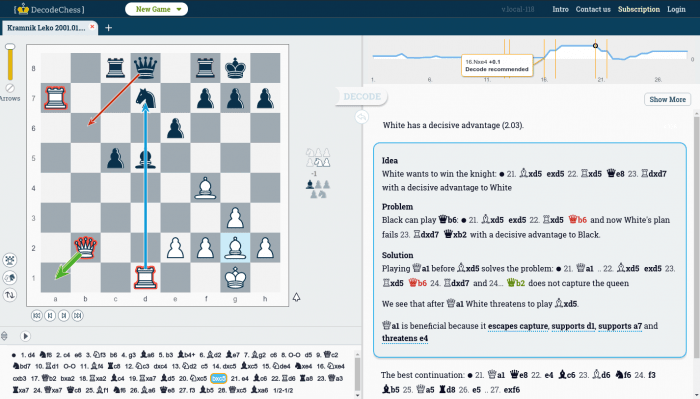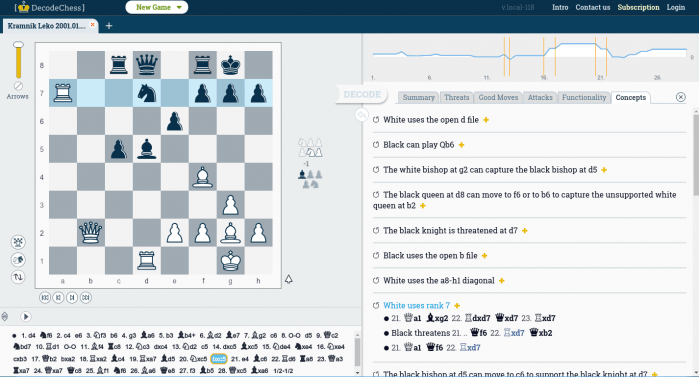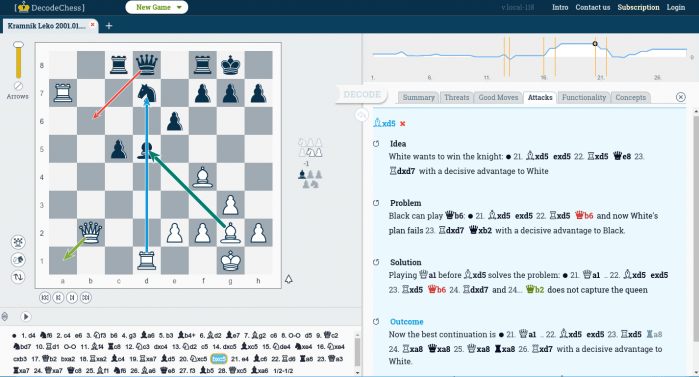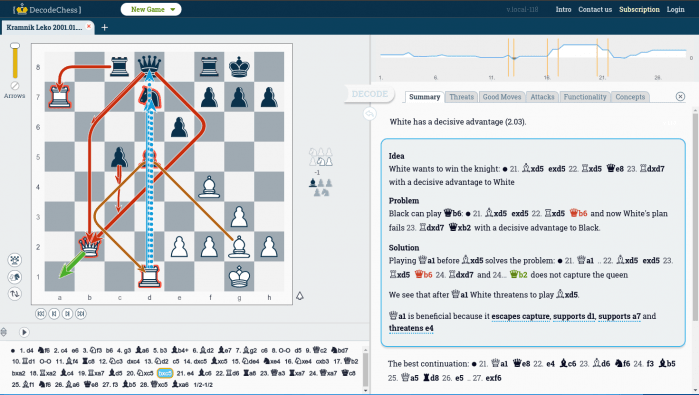 Decode Chess Compared to Other Programs
Features

Current Chess Programs

DecodeChess

Human Abstract Thinking

Player plans & the obstacles in applying them in the position

✘

✔

Dominant positional and tactical factors that are important to understand

✘

✔

Move's functionality (of player best move & opponent's intentions )

✘

✔

How the best-move handles opponents plans

✘

✔

Pieces functionality (important utilities of the pieces of both sides)

✘

✔

Learn from your mistakes! You suggest moves and get their drawbacks & merits until you find a good move

✘

✔

Identify interesting position to analyse in a game

✘

✔

Machine Concrete Calculations

Player's good candidate moves & opponent's threats

✔

✔

Translation of a score into human terms (good, mistake, blunder, etc.)

✔

✔

Find blunders in a game

✔

✔

Best move(s) & position's score

✔

✔

START TO DECODE FOR FREE
To sum up, current chess analytic tools are limited to the technology of chess engines: they can tell what the best move(s) are and what their evaluation is. This can be wrapped up with human words like inaccuracy or blunder but not much more. One can squeeze out some chess concepts from the engines' evaluation function. However, this is an inadequate alternative as the chess engines evaluation function is inaccurate and falls far beyond even an average human chess player understanding.
In contrast, DecodeChess is the first to tackle the AI problem of how human chess thinking is done and to mimic it by a computer program. It creates a model of chess player thinking which is backed by the accuracy and enormous search power of the computer. This enables DecodeChess to reveal the underlying chess thinking behind the plain moves. The result is an explanation affluent with chess ideas that are demonstrated by concrete examples.
I enjoy the insights Decode Chess supplies, especially on the complex mid-game positions. Although I'm not a very strong player (yet) I appreciate the depth and explanations that Decode Chess provides. I highly recommend this app.
https://decodechess.com/wp-content/uploads/2017/11/New-Release.jpg
300
450
fdg5f7
https://decodechess.com/wp-content/uploads/2018/03/logo-name.png
fdg5f7
2017-11-10 10:13:59
2017-11-11 18:56:12
v590-176 Dated 10-Nov-2017
https://decodechess.com/wp-content/uploads/2017/04/the-why-is-important.jpg
720
1280
fdg5f7
https://decodechess.com/wp-content/uploads/2018/03/logo-name.png
fdg5f7
2017-04-29 21:18:30
2017-04-29 21:19:31
The WHY is Important!
https://decodechess.com/wp-content/uploads/2017/04/2322.jpg
720
1280
fdg5f7
https://decodechess.com/wp-content/uploads/2018/03/logo-name.png
fdg5f7
2017-04-29 20:57:14
2017-04-29 21:20:29
Challenge Accepted